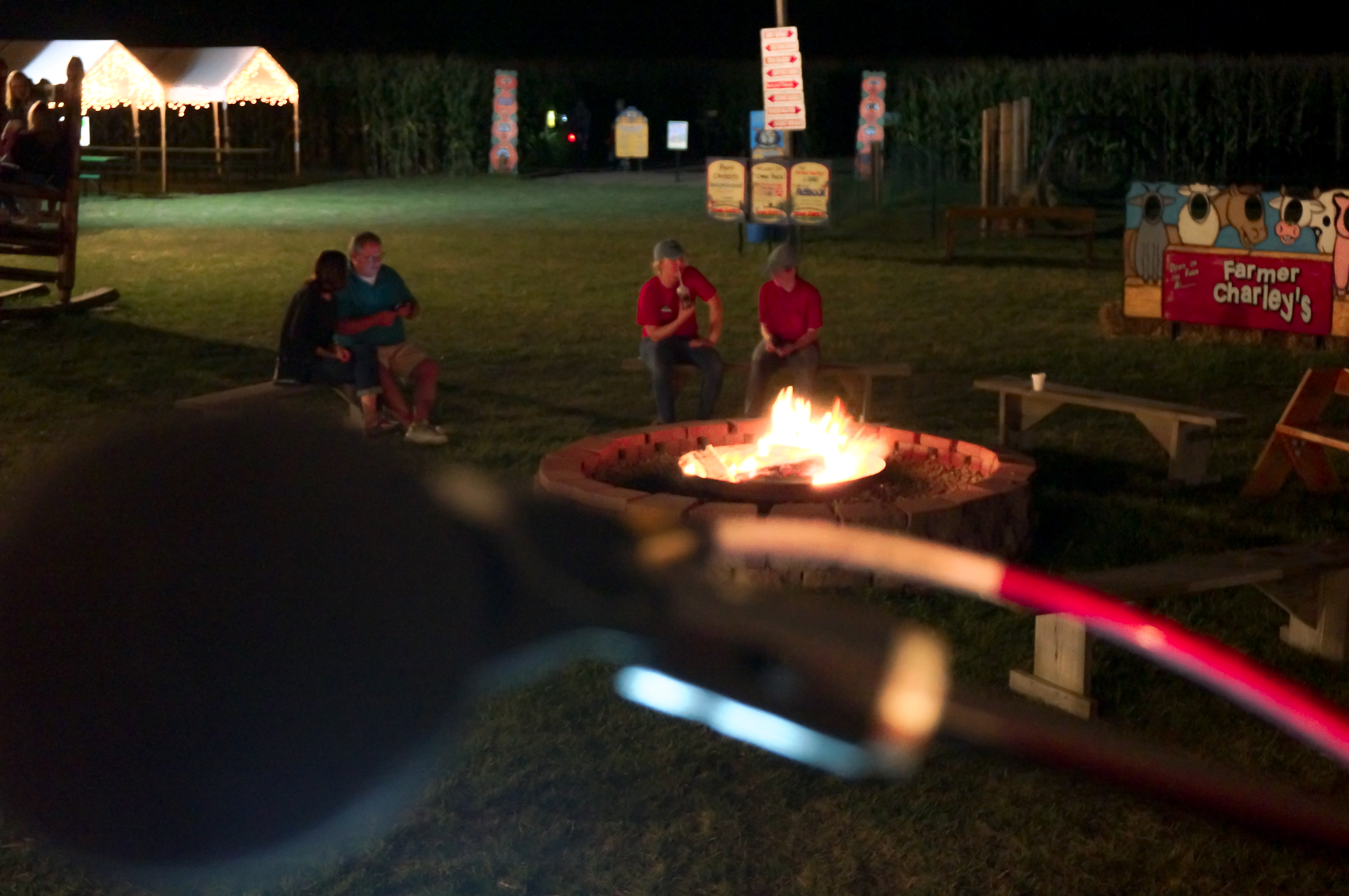 So I would think that most of us born and raised in the Midwest could probably trace their roots far back enough to be linked in one way or another to farming. We don't call it the America's bread basket by accident. In my case, I have a very real and current connection in that my wife's uncle is very much a working farmer in Monroe, Michigan. Charley and his wife Marge have dove tailed this living into an incredibly successful corn maze on the northern edge of Monroe (you can see their Farmer Charley's Kackleberry Farm property in all its glory on the west side of I-75 just south of the I-275 split).
For the past several years now I have performed a couple of select weekends in September and October to help add a little ambiance (and fun for me) to the normal fare offered there. Great food, games, animals and of course the maze. I played there on this past Saturday night...a wonderful weather night (believe me I've had some cold and damp ones too) and met lots of new friends that hadn't heard me perform before. Always cool when that happens.
Two standout memories for me: first, there was a large youth group from the Monroe area that arrived at the farm about the same time I was loading in. It appeared that they were Juniors in high school (from what I could later deduce). They spent time in and out of the performance area both listening (even dancing?) and enjoying the farm...I got to meet many of them and I now have a renewed hope in our youth. Fantastically polite kids all of them...so well behaved and genuine. Spoke with several about their own musical endeavors, interests and they were all refreshingly approachable and respectful. They stayed until I finished performing (well after 9 o'clock) and some actually helped me tear down and pack up. So cool to see and interact with such great kids.
Second cool happening was the surprise visit of an old friend that I met several years ago through work. Carson is a Canadian (Windsor) that works at Ford. He and I spent quite a bit of time together in Louisville on a program launch. It's always been a side laugh that Carson is my "patpredd.com Ambassador". He has spread the word at Ford about my musical side (completely unsolicited BTW) and will always answer the phone "patpredd.com" when I call him. The crazy part is that until Saturday night he had never actually seen me perform live. It was a COMPLETE surprise to see him walk up to the stage and give me a big "patpredd.com" just like at work. Totally blown away. Thanks to Carson and his fiance for trekking across the border and making my night. Totally cool surprise!!!